Cyclists
Greg Gotimer
Trip Year: 2008
School: JHU
Hometown: Katonah, New York
Email: ggotimer@jhu.edu
Please support me by donating now: http://www.active.com/donate/hopkins4k/H4KGGotime
Trip Leader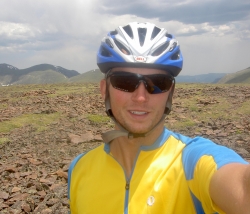 This summer will be my second trip to San Francisco in two years. The first time, I did not know what to expect from the trip and only hoped that I would be able to make a difference in the life of someone who was battling cancer. What I was not expecting was the magnitude of support we would get throughout the country for our ride. This summer I hope that I can take my experience from last year and be able to guide the team to make this summer an even greater success.

Hearing stories from along the route, as well as from family and friends before the trip began was an unbelievable experience that I look forward to having again this year. These stories helped our team focus on our goal and kept us moving towards San Francisco over even the toughest of days.

In May I will be graduating from Hopkins with a degree in Civil Engineering. I will be taking a job with Deloitte Consulting in DC working as a Business Technology Analyst in their Federal Practice.